From the Principal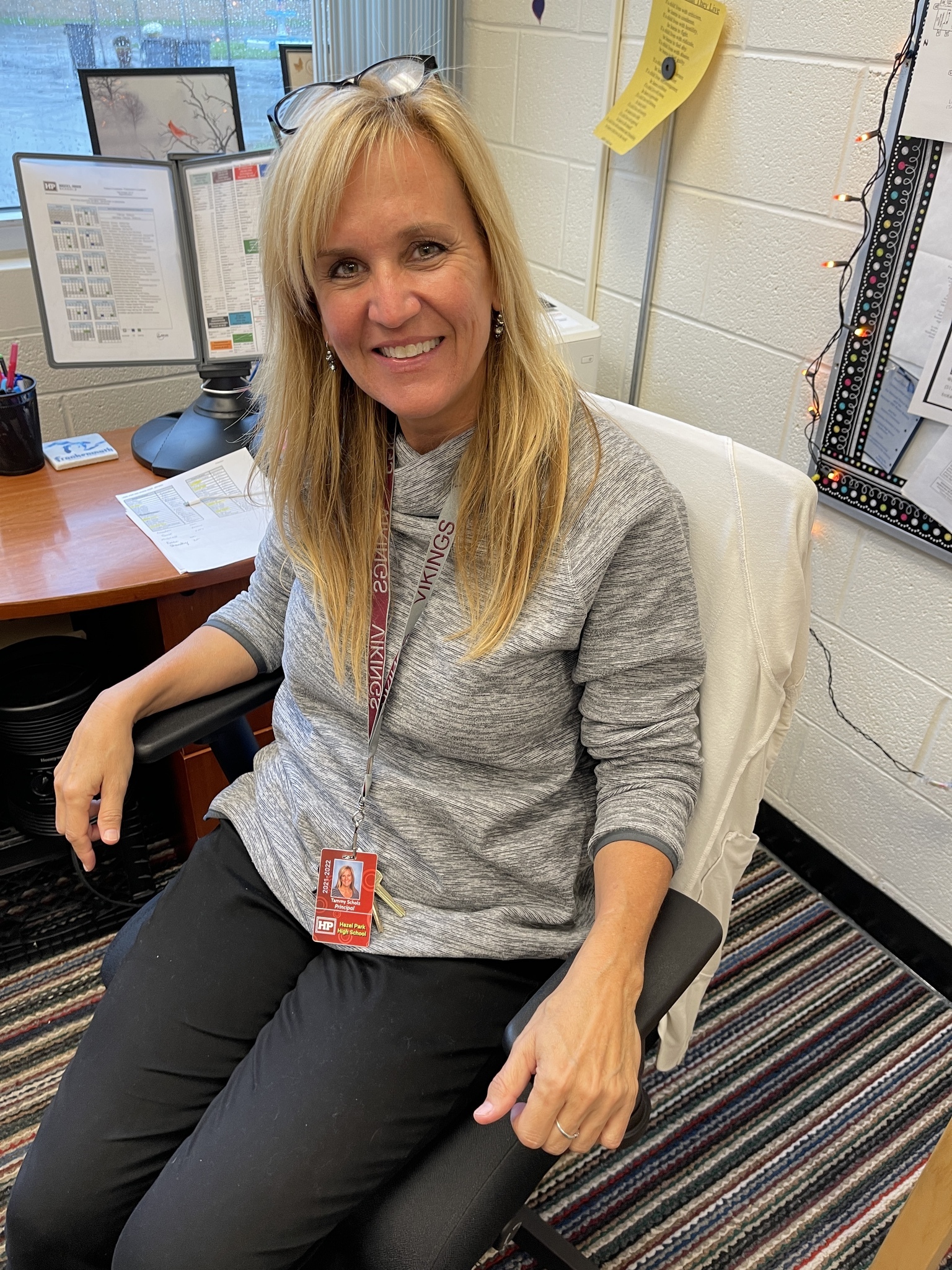 August 2, 2023
Dear Parents and Families of Hazel Park High School,
High school is an important and critical time of transition – moving from the middle school experience and preparing for the bigger challenges of adulthood. What happens during these few short years will have a lasting impression on students' development, growth, and future. Our main goal is to ensure that every student is provided with the highest quality education possible in a safe and supportive learning environment.
In order to accomplish this goal, all decisions that will be made at HPHS will always be guided by what is best for children. Peter Drucker stated, "The best way to predict the future is to create it!" We are committed to creating a bright future for all of our students and in having a school we are all proud to be a part of. This can be done best by working together as a team with our staff and parents. We are confident that the entire HPHS staff is committed to helping all students achieve their very best because every student is valued and worthy of our best efforts.
Please see below for important dates and information regarding the 2023/2024 school year!
Please click here to see the flyer with details about VIKING DAY:
FIRST DAY OF SCHOOL
WEDNESDAY, AUGUST 30, 2023
The first day of school is a half day that begins at 12:00 p.m. and dismisses at 2:40 p.m. We will have our first FULL day of school on August 31 beginning at 7:40 a.m. until 2:40 p.m. Arriving at school on time each day is VERY important. Students can come in for breakfast beginning at 7:10 a.m. but may also receive breakfast as they enter the school. Students can access their schedules on the student MiStar portal. We will have a printed copy of every student's schedule upon arrival. ADVISORY has been moved to later in the day and is not every day like last school year. Advisory is a .25 credit elective class that all students have three times per week. It is graded as a PASS or NO CREDIT. The elective credits earned in Advisory are additional and can only help toward reaching the 22 credits needed to graduate. Advisory is a time for students to connect with their teachers and peers, build community, support their social, emotional and academic growth and gain valuable information that will help them be successful.
MARK YOUR CALENDAR
PARENTS BACK TO SCHOOL/MEET THE TEACHER NIGHT
We hope you will join us in making this a great school year for your students. All parents/guardians are invited to our Back to School/Meet the Teacher Night, which will be held in the auditorium on Thursday, September 21st, beginning at 6:00 p.m. This is an opportunity to meet our amazing staff and tour the building, and gives the teachers a chance to meet you!
Hazel Park Schools K-12 Curriculum Handbook: Writing, Renewal, and Adoption
SENIOR PARENT MEETING
During Back to School/Meet the Teacher night, there will be a special parent/guardian meeting for the Class of 2024, in the auditorium at 7 pm. Come and find out what to expect during your child's senior year at the high school!
STUDENT IDs
⇔ ⇔ ⇔ All HPHS Students Must Present Their 2023-24 School Issued ID Upon Arriving To School Each School Day⇔ ⇔ ⇔
All students are given one ID at no charge when their yearbook picture is taken. Students who attend Viking Day on August 24th will have their picture taken and receive their ID card at that time. Any student that is unable to attend Viking Day will have his/her picture taken on Friday, September 15th between 8 and 10 a.m. and will receive their ID card then. Beginning September 18th, ALL students must show their HPHS 2023/24 student ID upon entering the building. For the safety of all students and staff, any student without ID will be directed to the media center where a new card will be issued. A new ID card costs $5 and the parent will be notified via email that the $5 charge was assessed. A student who pays on the day they forgot the ID or within 5 school days will have a reduced cost of only $2. All student fines must be paid before students can purchase tickets to events such as the upcoming Homecoming Dance.
CHROMEBOOK DISTRIBUTION
Hazel Park is a 1:1 technology district. This means every HP student receives a technology device for use at school and at home provided the Chromebook agreement form is signed by a parent or guardian and the student. A new form must be signed each school year. Forms and devices will be available at school on Viking Day. Forms are also located at the front entrance of the building, in the main office and in the media center. Personal devices such as laptops and tablets are not allowed in school.
Chromebook Form For the 2023-24 School Year
POLICY REMINDERS
Student Handbook/Code Of Conduct: NEW POLICY. PLEASE READ!
Please carefully read our new Personal Technology Devices (PTDs) policy which includes, but is not limited to: CELL PHONES, computers, tablets, electronic readers, smart watches, earbuds/earphones and/or other web-enabled devices of any type. This policy will be STRICTLY enforced.
Personal Technology Devices (Cell phone policy) 2023-24 School Year
BACKPACKS
Students may NOT carry a backpack or purse larger than 4 X 6 inches with them to each class but are highly encouraged to use a backpack for transporting their school issued Chromebook and other items to and from school each day. Students must keep personal belongings in their assigned locker. We will not utilize school cameras to look for lost or stolen items that are not secured in a locker.
LOCKERS
A locker is assigned to every student. Students must BRING their own combination lock and use the locker that is assigned to them. If a student has PE class or plays a sport we highly recommend getting 2 locks with the same combination. Amazon link If a student chooses to use a key lock, they risk the lock being cut off if the administration deems it necessary to get into the locker and the student is unable to provide the key. It is the student's responsibility to keep the locker clean and free of any food. We recommend students keep a light jacket or sweatshirt in their locker for use while in school. Winter jackets must be stored in lockers and may NOT be worn in class.
DRESS CODE PARAMETERS
We have a large selection of new clothing available in the counseling office for anyone failing to adhere to the dress code parameters.
● No obscene, violent or vulgar words or images
● No apparel containing images of tobacco, marijuana and/or alcohol (this includes logos of companies that sell these items)
● No hats or hoods (with the exception of religious items)
● Shorts/skirts and rips/holes in pants must be 5 inches from top of knee unless leggings are worn underneath
● Strapless, backless, spaghetti straps, tank or halter tops are not allowed unless covered by a sweater, shirt or jacket
● No bare midriffs (this means no bellies or lower backs visible)
● No see through, low cut or revealing clothing
● No bedroom slippers, robes or pajamas
● No gang-related apparel
Medication
Students who need to take prescription medication during the school day MUST have a form on file in the counseling office signed by your child's physician. Forms are available in the counseling office. Students are NOT permitted to keep medication on them. If your child must keep their inhaler and/or Epinephrine Pen with them, there is another document that must be signed by the parent/guardian and the student. Over-the-counter medications such as pain relievers, allergy medications etc, are not allowed to be taken while in school. If your child has a medical reason that they need an over-the-counter med, please contact the counseling office at 248 658-5109.
Throughout the year, our school website will attempt to provide you with the most current information including weekly newsletters that will be emailed and posted to the website. However, if at any time you have questions, please do not hesitate to contact any of our administrators or any of our staff at (248) 658-5100.
We are honored to have been a part of so many wonderful traditions in Hazel Park Schools and excited about the many new adventures that lie ahead.
With students in mind,