Ascension Health Center
Hazel Park Schools, in partnership with St. John's Ascension Health Center, is proud to provide health services for students from 9 a.m. to 4:30 p.m., Monday – Wednesday. All students can receive free Sports Physicals which are required to participate in sports and be on file with the Athletic Department. A current physical is one obtained on or after April 15th, of that school year.
You can come to the Health Clinic to schedule an appointment for your physical. The Health Clinic is located across the hall from the Student Services Center (Counseling Office) at Hazel Park High School. You can also print the Ascension paperwork here or pick the paperwork up in the Health Clinic.
Services include:
Medical – General health assessment, school/sports physicals, sick care, immunizations, vision and hearing testing, laboratory screening, health education, and nutrition counseling.
Counseling – Counseling and referrals for various concerns related to school-age children and adolescents including depression, behavioral issues, personal relationships, violence prevention, family problems, and substance abuse.
Health Education – Student and parent educational programs related to the school-age child's health issues: i.e., asthma, hypertension, diabetes, nutrition, abstinence, substance abuse prevention, and conflict resolution.
As a state-funded center that bills insurance, uncovered costs do not get billed to our students or their families, so we encourage your students to utilize these services.
Health Center Staff:
Mia Love, Nurse Practitioner
Richard Austin, MSW, M.A., Behavioral & Mental Health
Our new 2,200 square foot facility opening at the High School in spring 2020 will be available for all students enrolled in Hazel Park Schools.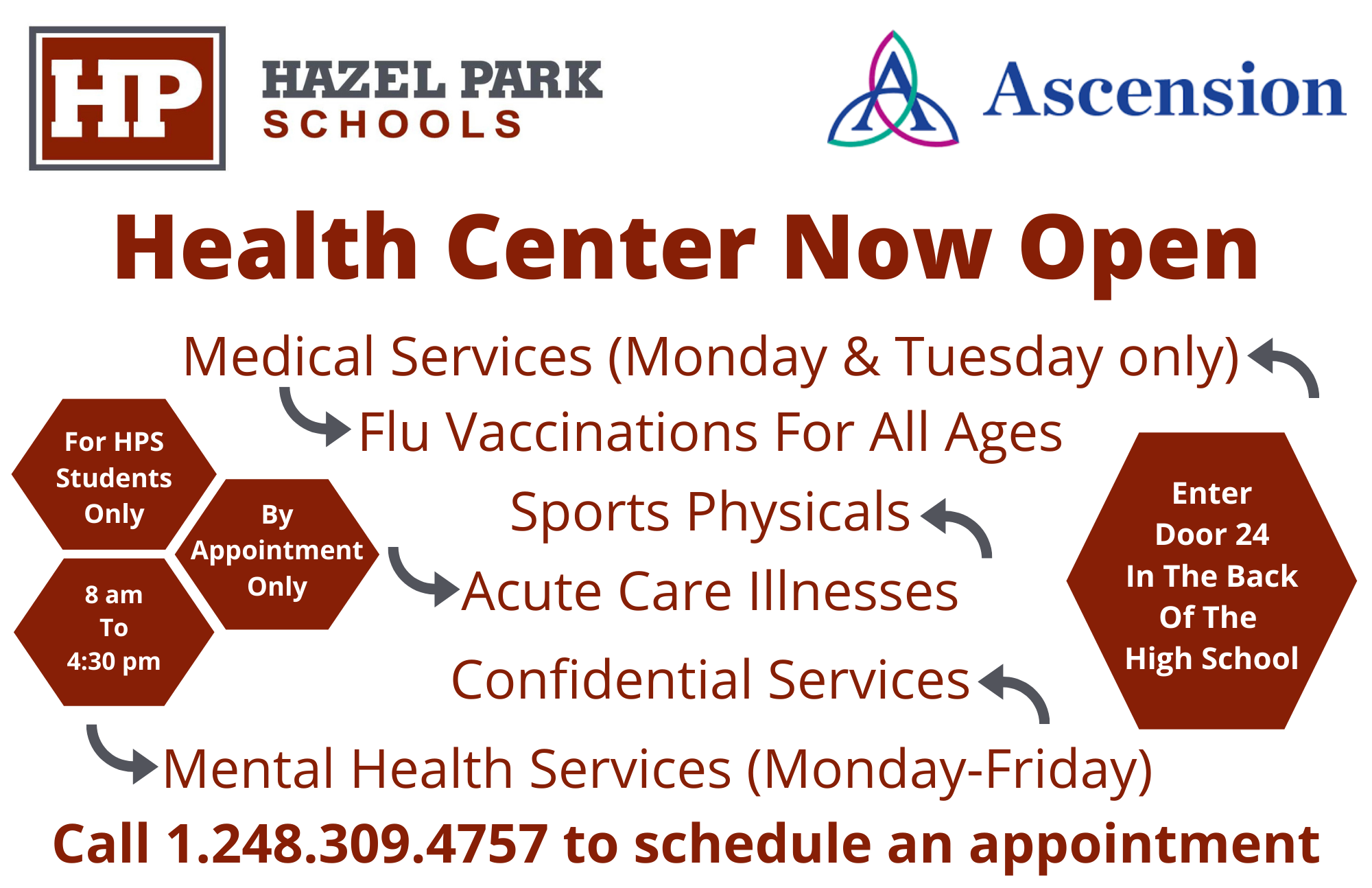 For more information:
Mia Love
mia.love@hazelparkschools.org