Superintendent's Welcome
Dear Parents, Students and Community Members,
Let me be the first to welcome you to Hazel Park Schools!
Our dedicated teachers and staff serve more than 3,200 students in 12 schools throughout Hazel Park and Ferndale each year. We are fortunate to receive incredible support from parents, grandparents, churches, civic groups, and local businesses as we work together to prepare students for the future.
We welcome students from all backgrounds, as we strive to inspire and empower all learners to achieve excellence through a variety of scholastic opportunities and extracurricular activities. Our students have access into the Hazel Park Promise Zone and College Access Network that offers a tuition-free path for associates degrees and provides college and career preparatory programs such as the UAW Chrysler School-to-Work Program. This past year over 25% of our students utilized Promise Zone and many other scholarships.
Already this year, we have kindergarten through seniors competing in robotic programs, our award-winning National Art Honor Society continues to refine its craft and our National Honor Society has a record number of members. For extracurricular activities, our boys High School soccer team won the Silver Division in the MAC and our High School Band placed 10th in the state's competition. Plus, we reopened the Jardon Greenhouse for Special Education students and the newly-renovated Edison School to K-26 youth with severe emotional impairments.
It is evident that we support a collaborative and well-rounded education for all students. We have eight fundamental beliefs we adhere to that are outlined in our strategic plan, All in All The Time. We believe:
The school district supports the social, emotional, physical, and academic needs of each child in a caring, healthy, and safe environment.
All students have the ability to learn.
A culture that celebrates diversity and promotes equity.
Student achievement and social emotional learning are at the core of every decision.
Students are successful when staff, families and community are engaged and support learning.
Research based curriculum, aligned with state standards is the foundation for high quality instruction.
Student driven learning environments foster self-efficacy and individual ownership of learning.
Student success is fostered and supported through multiple pathways toward graduation.
Unveiled in 2016 after an extensive year-long process, All In All The Time is centered on four primary implementation goals for the district: Climate and Culture, Curriculum and Instruction, Community Relations, and Resources.
To-date, Hazel Park has worked through many of these goals as we have implemented the following targets:
Zero through 12th grade redesigned curriculum
Implementation of positive behavior support systems
Expanded communication and media plan
Increased community involvement
I encourage you to explore each goal--as well as the rest of this website--to determine how you can help us be, "All in all the time."
I welcome your involvement, and please reach out to my office with any input.
With Students in Mind,
Dr. Amy Kruppe, Superintendent
Hazel Park Schools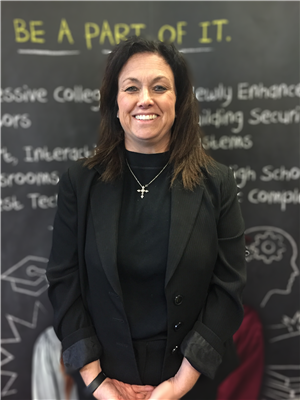 Dr. Amy Kruppe
Amy.Kruppe@hazelparkschools.org
248.658.5200