COVID-19 CORONAVIRUS RESPONSE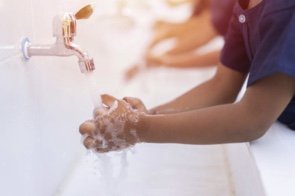 In accord with the Governor's directive all of Hazel Park Schools will be CLOSED as of Monday, March 16. Hazel Park Schools will resume school on Monday, April 13, after our scheduled spring break.
This page will be used to update the Hazel Park School community about the novel coronavirus (COVID-19) and the District's response and procedures. Because the status of COVID-19 is rapidly changing both here in the U.S. and abroad, we are continually monitoring the situation. Please check back often for the latest information on what HPS is doing to prevent, respond and provide resources about COVID-19. We are in close contact with the Oakland County Health Division and have actively engaged with the Centers for Disease Control (CDC) to ensure that we are following the direction of experts when it comes to safety and preventative measures for our students and staff. We will continue to follow their guidance and best practices to deal with this virus.
Together, we will get through this together!
COVID-19 COMMUNITY RESOURCES
WHAT IS HPS DOING TO KEEP STUDENTS AND STAFF SAFE WHEN THEY COME BACK TO SCHOOL?
BUILDING ACCESS/CLEANING
With COVID-19 spreading, deep cleaning our facilities is critical. To accomplish that in the most effective manner, the buildings were closed from Tuesday, March 17 to Sunday April 12, for all personnel, public and HPS staff members. The Centers for Disease Control shared that the virus can live up to three to six days on a hard surface. As a precaution, the district has closed all buildings, to ensure any potential remnants of the virus are eliminated.
Beginning the week of March 23 and continuing the week of March 30, the cleaning crews will disinfect the buildings and technology with only limited access to necessary HPS staff members.
Our cleaning staff uses our "Clorox 360" cleaning device which we have been rotating through the schools and we are ordering another one. These electrostatic sprayers deliver sanitizing spray to surfaces quickly and efficiently. Sprayers can cover 18,000 square feet per hour, making it easy to quickly disinfect the most populated sections of our buildings quickly and safely in the evening when students and staff are not present. The spray kills 99.9% of bacteria in five seconds and kills viruses, including COVID-19, MRSA, and norovirus in two minutes or less. It also sanitizes soft surfaces and inhibits the growth of mold and mildew.
WHAT IF WE TRAVEL OUTSIDE THE U.S. WITH OUR CHILDREN OR HAVE A CRUISE PLANNED?
For personal travel (like upcoming Spring Break trips), we strongly advise all students, faculty, and staff follow travel alerts from the CDC and DOS. Currently, the CDC recommends that travelers avoid all nonessential travel to Italy, South Korea, Iran, China, and Venezuela. The CDC has also issued an advisory for cruise ship travel. If you or someone in your family has traveled to one of these countries or is planning a cruise, you MUST adhere to CDC guidelines upon return: This includes self-quarantines & re-entry processes for resuming attendance at our schools: https://www.cdc.gov/coronavirus/2019-ncov/travelers/faqs.html

If your students travel to a level 3 CDC COVID-19 warning area, please notify their schools before returning. (Right now, this includes China, Iran, South Korea, Italy and Venezuela but could change at any time): https://www.cdc.gov/coronavirus/2019-ncov/travelers/after-travel-precautions.html
If you travel anywhere outside or inside the U.S. and become ill, contact your doctor and your child's school immediately. Your doctor will work with the Oakland County Health Division to determine proper diagnose and protocol.
WHAT SHOULD I DO IF SOMEONE IN MY FAMILY BECOMES SICK WITH RESPIRATORY SYMPTOMS?
If you are feeling ill, here are three recommended actions.
1. Free Online Beaumont Health Risk Assessment: After answering the questions, the online tool will suggest what action a patient should take such as:
contacting a primary care physician
going to a curbside screening
seeking treatment at an emergency center
2. The Oakland County Health Division says you should contact your primary care doctor immediately. If you do not have a Healthcare Provider, call their Nurse on Call (NOC). NOC Hours: Monday - Friday: 8AM - 8PM and Saturday - Sunday: 9AM - 5PM. Call 1-800-848-5533 or email at noc@oakgov.com.
3. Please notify your child's school if any member of your family has symptoms of COVID-19 (fever, coughing, shortness of breath, etc.)
GOVERNMENT DIRECTIVES PERTAINING TO K-12 EDUCATION
WHERE CAN I LEARN MORE ABOUT THE NOVEL CORONAVIRUS COVID-19?