Hazel Park Community Coalition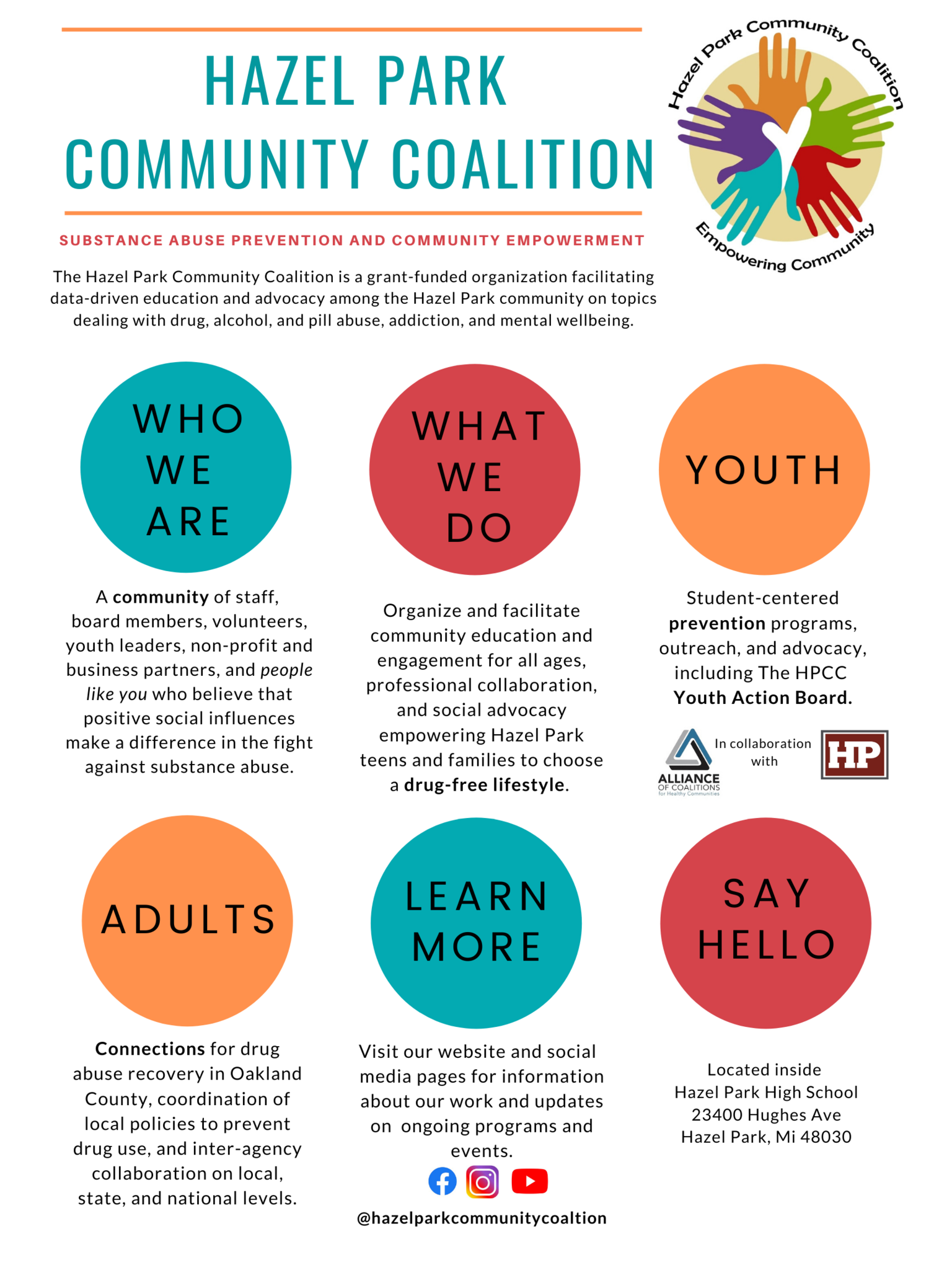 YOUTH ACTION BOARD (YAB)
The YAB is a peer-to-peer substance abuse prevention student leadership group facilitated by the HPCC. YAB teen leaders collaborate to design and implement school and community initiatives, programs, and campaigns that support Hazel Park teens in living a healthy, drug-free life. Reach out to kimberly.hart@hazelparkschools.org for more information about joining!
RESOURCES AND HELP
for Substance abuse, Addiction, and Mental Health

- Common Ground 24 hour crisis line (1-800-231-1127) www.commongroundhelps.org
- Hazel Park Youth Assistance www.hazelparkschools.org/community/youth-assistance/
- Oakland Family Services, Berkley (248-544-4004)
- Oakland County Al-Anon www.oaklandafg.org
- Alateen Talk (1-844-675-1050)
- Alcoholics Anonymous (248-332-3521)
- Alcoholics Anonymous, Ferndale (248-541-6565)
- Catholic Charities of SE Michigan, Royal Oak (248-548-4044)
- Jewish Family Services (248-592-2313)
- National Drug Helpline (1-844-289-0879)
- Substance Abuse and Mental Health Services Administration www.samhsa.gov

A SPECIAL MESSAGE TO PARENTS
We do not judge, ridicule, or reprimand anybody for any reason, and we exist solely to support Hazel Park community members in building healthy lives from the inside out. We are always open to input and would love to hear from you directly. If you have ideas for collaboration, suggestions for our upcoming programs, or other feedback, please e-mail us. Too, stay up to date with our programs, events, and initiatives by following us on Facebook, Instagram, and YouTube.