Viking Virtual Academy (Junior High 6-8)
Viking Virtual Academy (VVA) takes the distance out of distance learning by working in partnership with families to provide rigorous academic preparation that is teacher mentored, parent directed and customized to meet the needs of students from all academic backgrounds.
VVA continues to provide improved student learning and maintain positive family relationships based on trust and a shared belief that the student always comes first.
Students will…
Use K12 course content that includes workbooks and materials for hands-on exploration and authentic learning experiences in grades K-5. Grade 6-8 have access to digital materials. Course content is aligned to Michigan Academic Standards.
Course content includes ELA, Math, Science, Social Studies, and special subject courses/electives (Art, PE, Music)).
Complete blend of daily grade-appropriate online and offline lessons that combine structure with built-in flexibility.
Offline lessons will be supported by an HPS teacher and student's
parent/guardian.
Synchronous lessons and learning experiences will occur through an embedded video-based tool.
Course content can be customized by the mentor teacher to meet the needs of the student.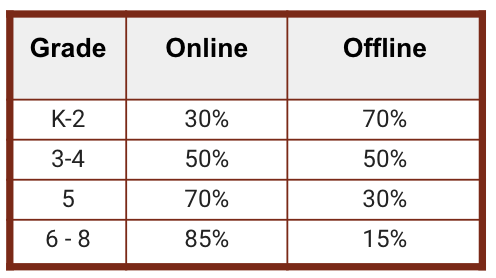 VVA Highlights:
1:1 Technology.
Work from Home.
Free Breakfast & Lunch.
Student Mentors.
Certified Teachers.
Eligible for Sports.
Reduced Credit.
Remote and In-person Support for Student Services: Support for IEP's, 504's, MTSS.
Positive Behavioral Instruction & Support Approach.
Social/Emotional Instruction.
Access to Social Workers & Psychologists.
Equity-Influenced Instruction.